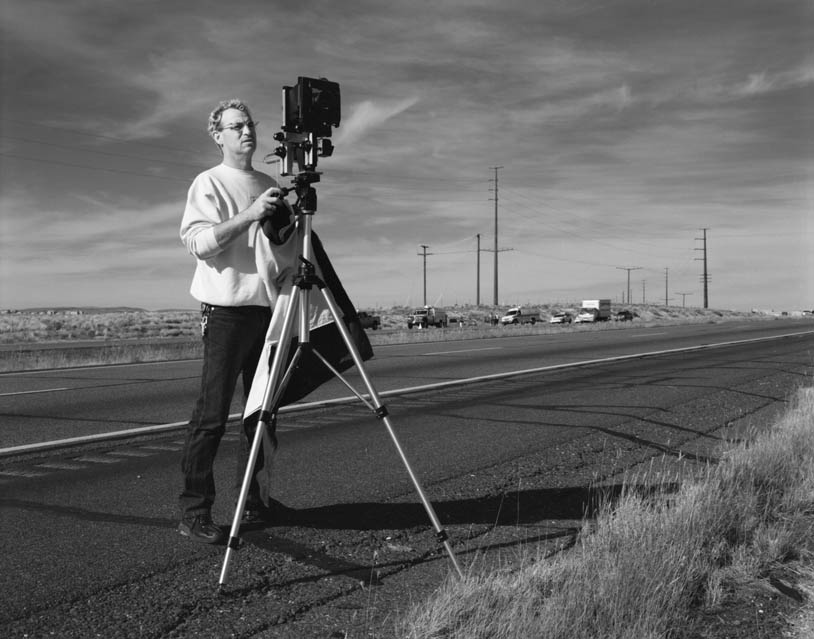 Biography
Donald Woodman
Born September 26, 1945 – Haverhill, Massachusetts
Career
Donald Woodman graduated from the University of Cincinnati in 1969 with a BS degree in architecture along with an extensive background in photography, having obtained work experience through the University's Co-Op Program. During his last year in architectural school and immediately after graduation, he worked as an architectural photographer and assistant to the renowned architectural photographer, Ezra Stoller, who was based outside of New York City. Woodman photographed the architectural works of such luminaries as Phillip Johnson, Paul Rudolph, I. M. Pei and buildings designed by Skidmore, Owens & Merrill, while also completing photographic assignments for many of the major home journals and architectural magazines.
From 1970 to 1972, Woodman developed his creative photography abilities working with the internationally recognized photographer, Minor White at the Massachusetts Institute of Technology, Cambridge, MA. He assisted White in teaching workshops and was director of the Creative Photography Lab's Gallery. During this period, he became knowledgeable about the history of photography while also developing hands-on knowledge of a wide range of historical and non-silver photo techniques, including photogravure.
In 1972, Woodman settled in New Mexico, working for five years at the Sacramento Peak Solar Observatory, doing sophisticated scientific photography and solar observations, including land-based and Sky-Lab photographic research. His responsibilities included managing the Observatory's film processing laboratory and establishing and operating a facility to create solar observation films. This later endeavor stimulated his interest in film-making and video work. Woodman pursued this work by enrolling in film courses at New Mexico State University, Las Cruces, NM. In addition he continued private creative studio work, creating a series of Southwest landscapes.
In 1981, Woodman received an MFA in photography from the University of Houston, Houston, TX, where he studied with George Krause. At the University of Houston, he taught photography and also helped to establish the University of Houston's Lawndale Annex, an alternative exhibition space for artists. He continued his interest in film and video, working on several documentary film projects and doing live video with various performance artists at the Contemporary Art Museum in Houston, TX. Additionally, from 1977 to 1983 he worked as painter Agnes Martin's personal assistant while continuing his own studio work.
From 1980 to 1985, he created several major series of black and white photographs using 4×5 Polaroid positive/negative film. Woodman's creative work during this period was partly supported by the Polaroid Corporation, which purchased and exhibited many of these images in conjunction with their prestigious, Polaroid Collection Program. His work is also included in the collections of the Victoria and Albert Museum, London, England; the Museum of Art and History, Fribourg, Switzerland; Albuquerque Museum, Albuquerque, NM; New Mexico Museum of Art, Santa Fe, NM; the New Orleans Museum of Art, New Orleans, LA; Butler Art Institute, Youngstown, OH, Walker Art Center, Minneapolis, MN; Corcoran Gallery of Art, Washington, DC; as well as various private collections.
From 1985 to 1993, Woodman worked on the Holocaust Project: From Darkness into Light, a collaboration with his wife, artist Judy Chicago. Together, they created a 3,000 square foot traveling exhibition which premiered at the Spertus Museum in Chicago, IL in October 1993, subsequently traveling to seven other museums. The bulk of the exhibition combines painting and photography, the two mediums fused in an entirely unique manner. This project aptly demonstrates the range of Woodman's impressive photographic skills. The exhibition is accompanied by a book written by Judy Chicago and with Woodman's photographs, published by Viking/Penguin. In conjunction with the Holocaust Project, Woodman was also involved in the filming and production of the video From Darkness Into Light: The Making of the Holocaust Project.
Donald Woodman seamlessly moves between the world of fine art photography and commercial photography. Moreover, his fine art images have been reproduced in numerous photographic catalogues. Woodman has also produced the photographic work for all of Judy Chicago's gallery catalogues and art books including: The Dinner Party, Viking/Penguin, 1996; Beyond the Flower – The Autobiography of a Feminist Artist, Viking/Penguin, 1996; Judy Chicago: An American Vision by Edward Lucie-Smith, Watson/Guptill, 2000; Judy Chicago edited by Dr. Elizabeth A. Sackler, Watson/Guptill, 2002; Fragments from the Delta of Venus, powerHouse Books, 2004; Kitty City: A Feline Book of Hours, Harper Collins, 2005; The Dinner Party: From Creation to Preservation, Merrell, 2007.
In the Summer of 1997, Woodman participated in National Geographic photographer Sam Abell's "Project Workshop" at the Santa Fe Photoworkshops in Santa Fe, NM, where he worked on surveying his 30 year career as a creative photographer. Also at the Santa Fe Photoworkshops, Woodman participated in a week long workshop in the use of Adobe Photoshop. In 2006 and 2007, he studied Applied Color Theory and Advanced Color Theory with Dan Margulis, who is internationally regarded as the leading authority on color correction for color reproduction and is the author of a series of books titled Professional Photoshop. With Woodman's depth of understanding and use of traditional photographic techniques along with his strong grounding and knowledge of the use of Photoshop in the manipulation of photographic images, Woodman feels equally comfortable combining both traditional as well as digital images and he has been able to broaden the scope of his own creative work.
Donald Woodman taught photography at the University of New Mexico, Valencia Campus from 1998 to 2002. In the fall semester of 2001 he team taught with Judy Chicago at Western Kentucky University, Bowling Green, KY. Woodman's students documented the project titled At Home, the transformation of a house into a work of art. The 25 students, under the direction of Chicago and Woodman, revisited the subject of home 30 years after Chicago's ground breaking Womanhouse project which was created in California in 1972. The students dealt with subjects that included history, generational perspective, self-image, prejudice and rape. The photo-documentary students worked both on the house itself and created a museum exhibition about the project. In the fall of 2003, Chicago and Woodman again team taught, facilitating an ambitious inter-institutional, multi-site project in Pomona and Claremont, CA, titled Envisioning the Future. Woodman worked with four groups of artists and students who used traditional and digital photographic processes as well as video to create art on the subject of the future. Additionally, Woodman juried a photographic exhibition for Millard Sheets Gallery, Pomona Fairplex, Pomona, CA, on the subject of Envisioning the Future.
During the Spring semester of 2006, Chicago and Woodman were in residence at Vanderbilt University as the Chancellor's first Artists in Residence. They were invited to facilitate a project class for both students and community artists in the Cohen Building, a beautiful McKim, Meade & White, neo-classical building originally conceived as a site for an art museum on the Peabody Campus. Throughout the course of the semester, twelve Vanderbilt students and thirteen community artists worked under the guidance of Chicago and Woodman who brought their unique participatory pedagogy to the project while Vivien Green Fryd, Professor of the History of Art at Vanderbilt, worked with them to provide a rigorous grounding in contemporary art and theory that supported and informed the art making process. These unique methods, which provided an integrated model of university art education, helped the participants find or expand their creative voices in order to produce the exhibition Invoke/Evoke/Provoke: A Multi Media Project of Discovery, which grew out of the participants' personal experiences and deep beliefs. The artists, aged 18 to 60, were from wide and diverse backgrounds and brought this diversity to bear on the subject matter that emerged from the intensive, month long group process that provided the underpinnings for the art making. As the project developed, a number of themes emerged, including family; gender and sexual abuse; religion and spirituality; pain and illness; ethnic and cultural identity; female friendships and the effects of globalization. These are explored through a range of media – painting, sculpture, ceramics, weaving, installation, performance, video and sound.
In 2011, Mr. Woodman worked with Judy Chicago on two performance pieces funded by the Getty Research Institute for the Getty sponsored Pacific Standard Time, in California. Sublime Environment staged at the Santa Monica airport in Santa Monica, CA, was an environment created with twenty-five tons of dry ice and road flares. A Butterfly for Pomona was a fireworks piece twenty minutes in duration staged on the football field of Pomona College, Claremont, CA. In 2014, Woodman worked with Judy Chicago on a monumental pyrotechnic performance piece, A Butterfly for Brooklyn, in Brooklyn's Prospect Park. The site-specific work, presented by the Elizabeth A. Sackler Center for Feminist Art at the Brooklyn Museum in partnership with Prospect Park Alliance, measured approximately 200 feet wide by 180 feet high and levitated and swirled before 12,000 viewers.
In 2016, Woodman published Agnes Martin and Me, Lyon Artbooks. The poignant memoir recounts his years working for renowned artist Agnes Martin. A traveling exhibition of photographs Woodman took during his time with Martin that is currently on view at the New Mexico History Museum in Santa Fe through August 2017. A series of book events are taking place through the US and Canada.
For more than four decades, Donald Woodman has pursued a very active career as a photographer. His work has been included in exhibitions both nationally and internationally, and he has worked with a variety of subject matter, using all camera formats, but he specializes in large format photography. As an accomplished commercial photographer his work has been published in magazines including Time Magazine, Newsweek, Vanity Fair, Art in America, ARTNews, Preservation Magazine and New York Newsday. Woodman also served as staff photographer for American Builder Magazine – New Mexico Edition. As a teacher he has brought this unique understanding of photography to the students he has taught at several universities around the United States. His work shows his ability to meld his broad knowledge of traditional photographic techniques with the changing advances in digital photography. In addition, since completing the Holocaust Project in 1993, he and Judy Chicago have collaborated together on a variety of art projects.
Education
University of Cincinnati, Cincinnati, OH. Graduated with a BS in Architecture 1969.
Assistant to Architectural Photographer Ezra Stoller (recognized as the leading American architectural photographer of the 20th century, his brilliant photographs helped establish the modern movement in architecture), Mamaroneck, NY, 1968 – 1970.
Massachusetts Institute of Technology, Cambridge, MA. Graduate level work in photography and assistant to Minor White (1908 – 1976 renowned photographer, teacher, critic, editor, and curator, whose efforts to extend photography's range of expression made him one of the most influential creative photographers of the mid-20th century) 1970 – 1972.
Assistant to painter Agnes Martin (noted minimalist/abstract expressionist painter of the 20th century), Galisteo, NM, 1977 – 1984.
University of Houston, Houston, TX. Graduated with MFA in Photography 1981.
Santa Fe Photographic Workshops, Santa Fe, NM: Fundamentals of Digital Photography 1997.
Santa Fe Photographic Workshops, Santa Fe, NM: Sam Abell's Project Workshop 1997.
Applied Color Theory with Dan Margulis (specialist in the field of applied color theory and one of the first three members inducted into the Photoshop Hall of Fame) 2006.
Advanced Color Theory with Dan Margulis 2007.
Teaching Experience
University of New Mexico Valencia Campus — Photography 187 & 287 — 1997 – 2002.
Western Kentucky University, Bowling Green, KY — Special photo documentary project At Home a Kentucky Project with Judy Chicago and Donald Woodman — Fall 2001.
Cal Poly Pomona / Pomona Arts Colony / Ptizer College Pomona and Claremont, CA — Special project Envisioning the Future, a unique interdisciplinary and multi exhibition site project to imagine, create and exhibit diverse images of the future, facilitated by artist Judy Chicago and photographer Donald Woodman — Fall 2003.
Vanderbilt University, Donald Woodman & Judy Chicago were invited to be the first Chancellor's Artists in Residence. They helped 12 Vanderbilt students and 13 Nashville community artists create an art exhibition, titled Evoke/Invoke/Provoke: A Multi Media Project of Discovery using Judy Chicago's participatory art pedagogy. Spring 2006.
Selected Collections
The Albuquerque Museum, Albuquerque, NM
New Mexico Museum of Art, Santa Fe, NM
The Victoria and Albert Museum, London, England
The New Orleans Museum of Art, New Orleans, LA
Butler Art Institute, Youngstown, OH
Museum of Art and History, Fribourg, Switzerland.
Contemporary Art Museum, Kumamoto, Japan.
Walker Art Center, Minneapolis, MN
Corcoran Gallery of Art, Washington, DC
Polaroid Collection, Polaroid Corp, Cambridge, MA
The College of Mainland, Texas City, TX
Patrick Lannan, Santa Fe, NM
Barbara Van Cleve, Santa Fe, NM
Graham Nash, Los Angeles, CA
Julia J. Norrell, Washington, DC
David Scheinbaum & Janet Russek, Santa Fe, NM
George H. Waterman III Library, New York, NY
Elyse and Stanley Grinstein, Los Angeles, CA
Audrey and Bob Cowan, Los Angeles, CA
Elke Stone, New York, NY
Hall, Dickler, Lawler, Kent & Friedman, New York, NY
Various private collections